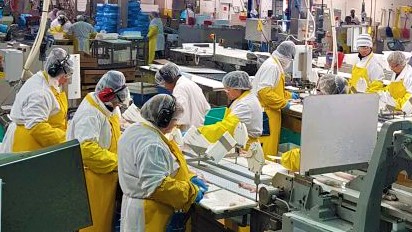 Freshwater Fish's reach extends worldwide in both food service and retail marketing channels. We are one of the world's largest and most consistent suppliers of wild-caught Walleye, Lake Whitefish, Mullet and Northern Pike. Freshwater Fish provides Canadian fishers access to global markets, and are an undisputed brand leader.
Freshwater Fish meets stringent handling, transportation, and processing standards to ensure all products meet regulatory requirements. We work closely with the Canadian Food Inspection Agency (CFIA) and customers to ensure our processing facility meets federal and customer requirements for food safety and quality. Programs aimed at food safety and quality assurance, including Hazard Analysis and Critical Control Points (HACCP) certification, a Quality Management Program (QMP), and Orthodox Union (OU) Kosher certification ensure consistency and the highest standards. Full traceability exists throughout the supply chain for all products.
Canadian freshwater fish, by virtue of the lakes from which the fish is caught, is an abundant and healthy resource. All species are wild-caught from clean, pristine lakes in northern and western Canada. Freshwater Fish works with and supports regulators and governments to ensure the resource is monitored and contributes to maintaining long-term sustainable fish populations.
Since 2010, Freshwater Fish has invested nearly $20 million in infrastructure, processing equipment, and systems to add value to our products and ensure safe food processing standards.